Latest News


23rd August 2018
As you will see, it has been a very busy few weeks since I last wrote.

One very hot summer evening in August I was interviewed by Will Evans for his Rock and Roll Farming Podcast. You can listen to my interview if you copy and paste this link into your search bar:
www.rockandrollfarming.libsyn.com/episode-078
Will says he interviews farmers and people in the agricultural industry with the idea of showing off some of the incredible characters involved. They are people with work ethic, drive, entrepreneurship, and communication skills, and he loves talking to them to learn more about their lives and stories.
You may have seen Adam Henson on BBC Countryfile meeting Will on his farm in Wales, to talk about the farming podcast and for Will to interview Adam. This was just a few days before my episode went out on 8th August 2018
Will says 'Paula and her family provide a fantastic example of a diverse, modern and dynamic farming business, and it was a genuine pleasure to talk to her tonight. Check it out folks'
www.rockandrollfarming.libsyn.com/episode-078
So I hope you do take a listen to the podcast and learn a little more about what we do here in Surrey; farming to produce British food, maintain this beautiful landscape for all to enjoy; environmental work across 25 miles of farmland; educational visits to help others see how we farm and the food we produce.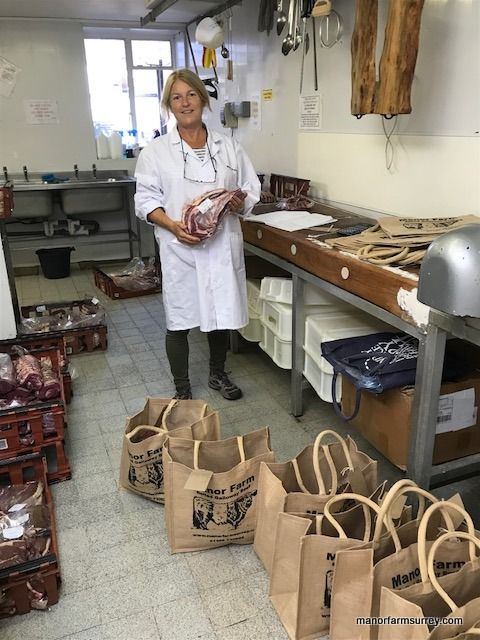 The following day our wheat harvest 2018 came to a close, with yields just above average and I was at the butchers packing up our lovely bags with our delicious grass fed Belted Galloway beef.

I transported the beef back to the farm in the fridge van and it was all collected direct from Manor Farm within the day. The next beef will be available in October and I am taking orders now!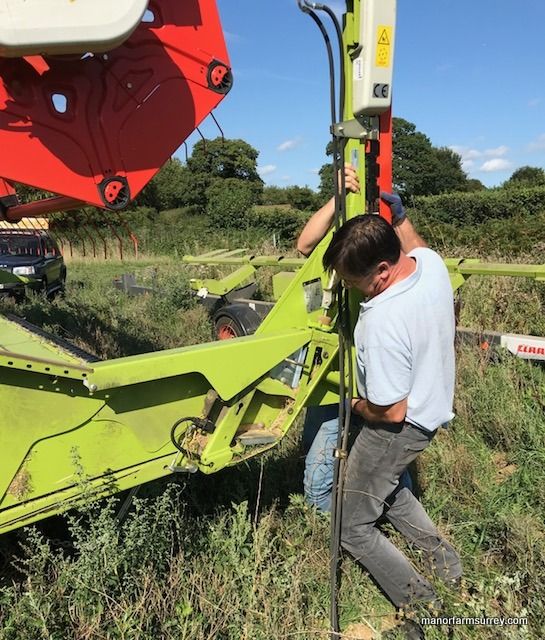 Laurence and Christopher set up the combine harvester this week and fitted the side knife in readiness to begin harvesting 150 acres of spring planted oilseed rape (OSR). The side knife is attached in order to slice vertically through the intertwined plants on the end of the header.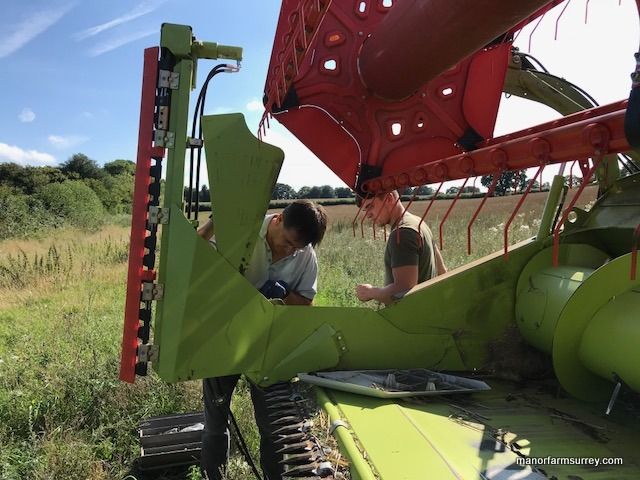 The horizontal knives on the header which cut the stems of the crop and the verticle side knife which cuts trought the upper part of the crop.
However when it came to 'opening up' which is the initial cutting of the field, the crop stems were still too green and caused a couple of blockages, so it will be left for a couple more weeks of drying in the sunshine before the crop is fit to harvest.
All our straw has been baled and stored in barns where possible but 720 Heston bales have been stacked outside in the shape of a barn and covered with strong purpose made sheeting.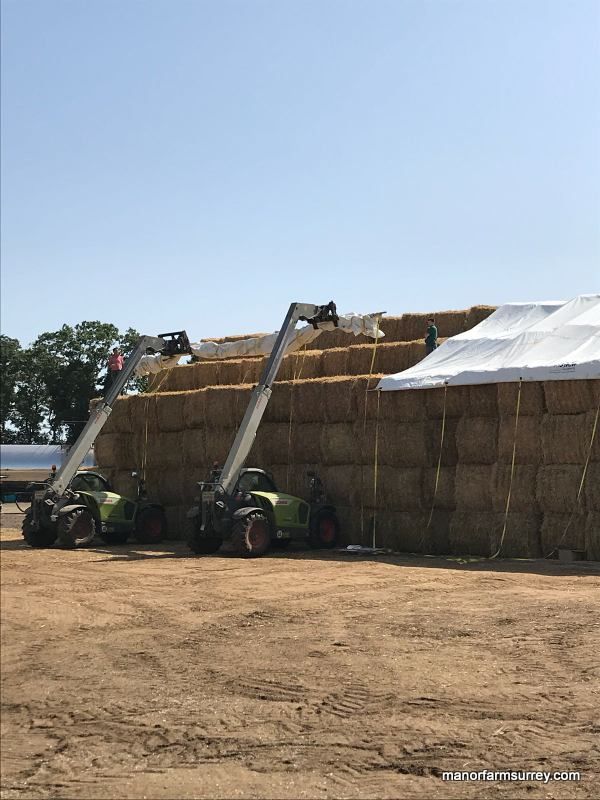 The heavy sheeting was lifted to the highest point at the side of the stack with two tele-handlers and then had to be unravelled and pulled over the top section and dropped down the other side.
Spikes were driven into the base of the stack and ratchet straps tightened the sheeting into place, hopefully this will withstand whatever winter weather is ahead of us!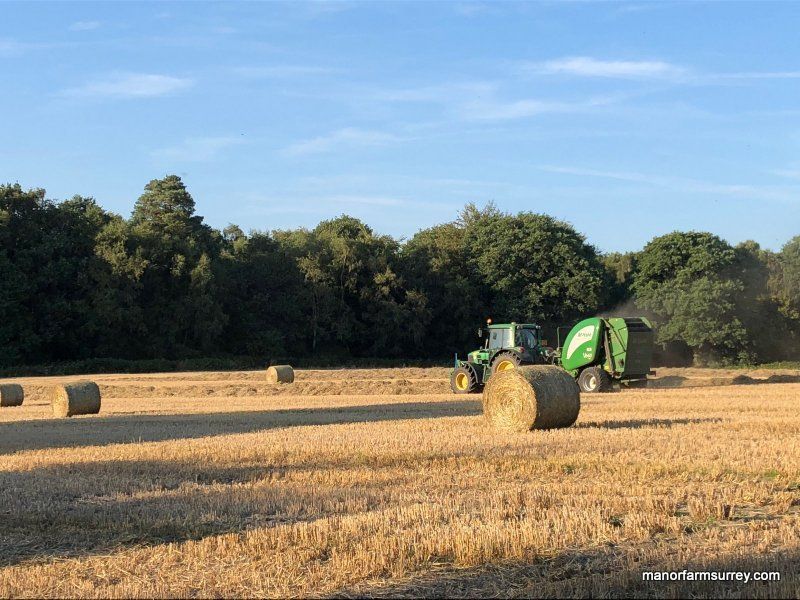 These round bales of straw have been collected from Lemons and this trailer is loaded with rectangular bales of hay from the Rookery.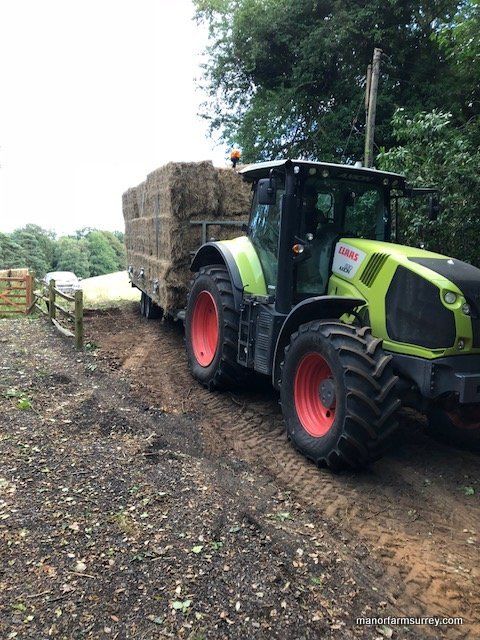 We currently use a minimum tillage or min-till system on the farm and have an Amazon drill which is drilling OSR at the moment. This is a chalky arable field at the foot of the North Downs where the Belties have been grazing this summer.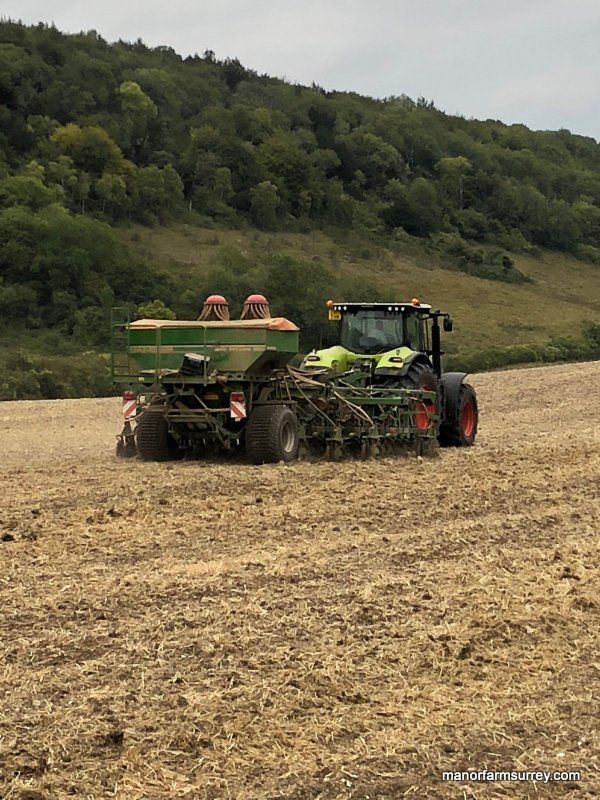 We are considering the possibility of buying a zero tillage drill and will have some demonstrations this week.

One of our neighbours, who farms fairly similar soil types, kindly brought his Sky drill over to our farm to demonstrate what it can do.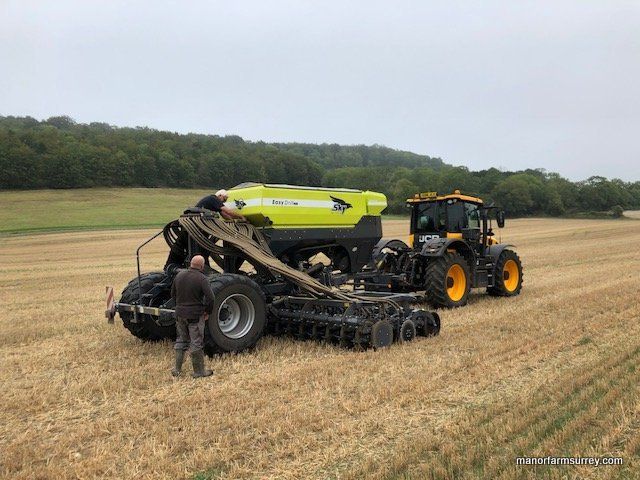 It is 6m wide and has the ability to direct drill the main crop as well as fertiliser and a cover crop at the same time.
A few acres of ground were drilled with OSR so we can see how well that comes up. The drill is returning at the end of September to drill an area of wheat.
Some advantages of a zero till /no-till: the soil is left uncultivated, undisturbed leaving a high level of the previous crop debris in the topsoil which aids water retention in the soil whilst soil erosion is almost eliminated; reduced soil compaction because less machinery needs to drive over; less agitation of the soil can lead to more biodiversity; the machinery can undertake its work in one field pass, therefore using less fuel; reduced emissions.
Some possible disadvantages: purchase of the new machinery; no mechanical control of the weeds by cultivations which can then lead to the need for chemical control of weeds; the previous crop's debris could harbour disease for the next crop, improved soil structure will take a number of years.
Two groups of cows and calves were walked back to barns where we had set up the cattle handling system/ 'crush'. The cows in Abinger Hall walked back to Paddington Farm and the group at Elex Wood were walked back to Raikes Farm.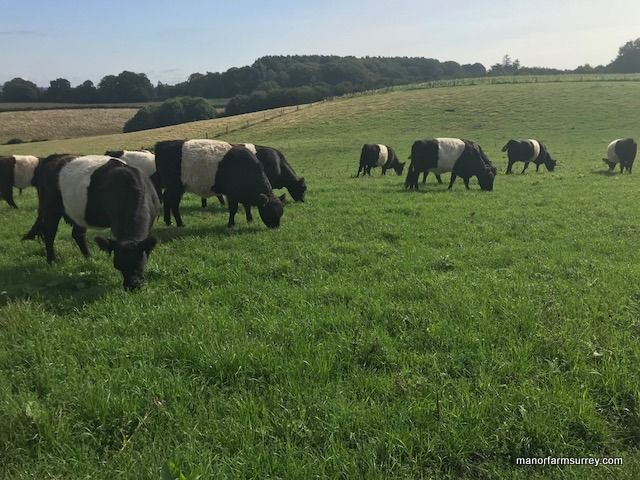 These girls stopped for a bite of breakfast en-route to Raikes farm
The Belted Galloways were pregnancy diagnosed (PD) and 23 cows are due to calve from March 2019.
The vet has a scanner with a view finder attached to his head via which he estimates the number of days pregnant.
We will have 10 home- bred heifers due to be served next May, but they cannot be put to Ethelred or Mister M because these bulls are either their sire or grandsire, so I'm giving thought to hiring a bull in for them or possibly having them artificially inseminated.
We are having two new barns constructed at the same time so that a crane can be used at the two sites within the same week. I will post more pictures as the work progresses.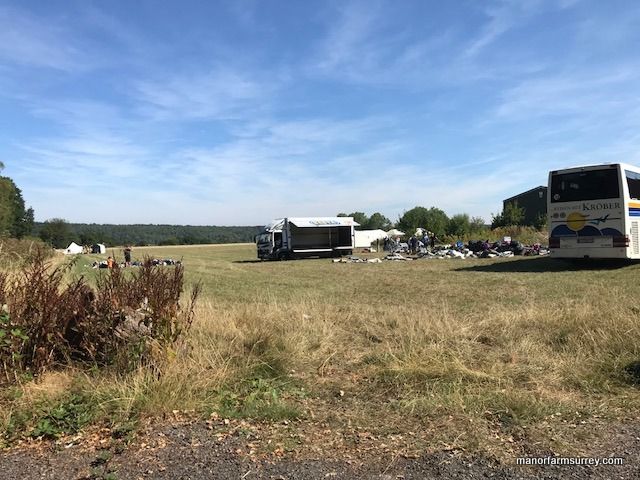 Scouts arriving on a beautiful summer day

For the past few weeks we have hosted a German Scout summer camp with about 100 people camping at Coast Hill Farm. The Scouts have visited various parts of Surrey and the Sussex coast and made a few trips to to London.
It was a pleasure to host the Scout camp and Laurence was surprised to be presented with some Scouting gifts before they struck camp.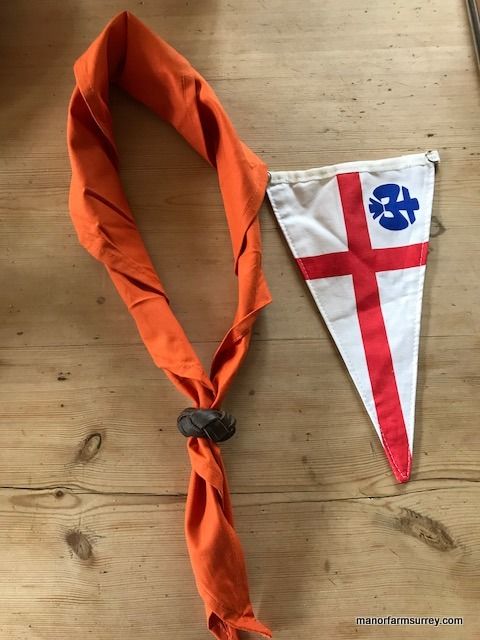 6th August 2018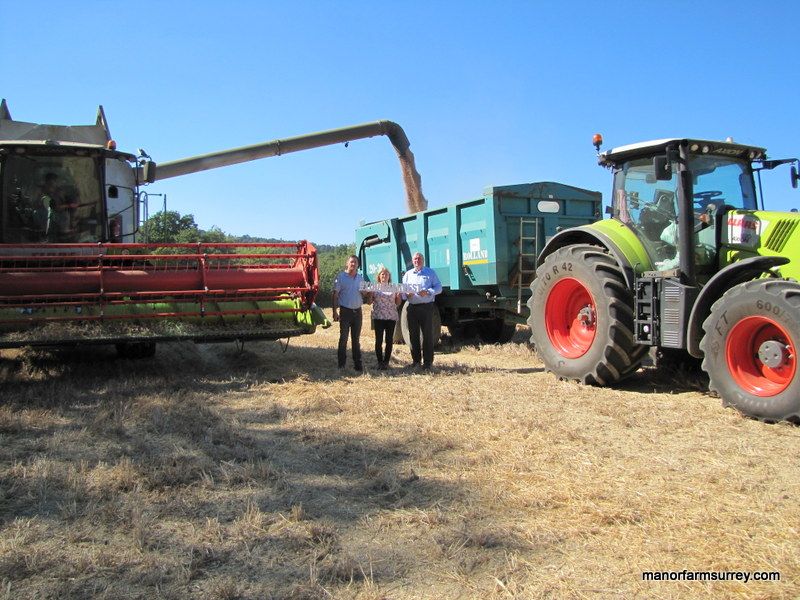 Yesterday Sir Paul Beresford MP visited Manor Farm to see the wheat harvest in action and to show support for the NFU's #YourHarvest campaign.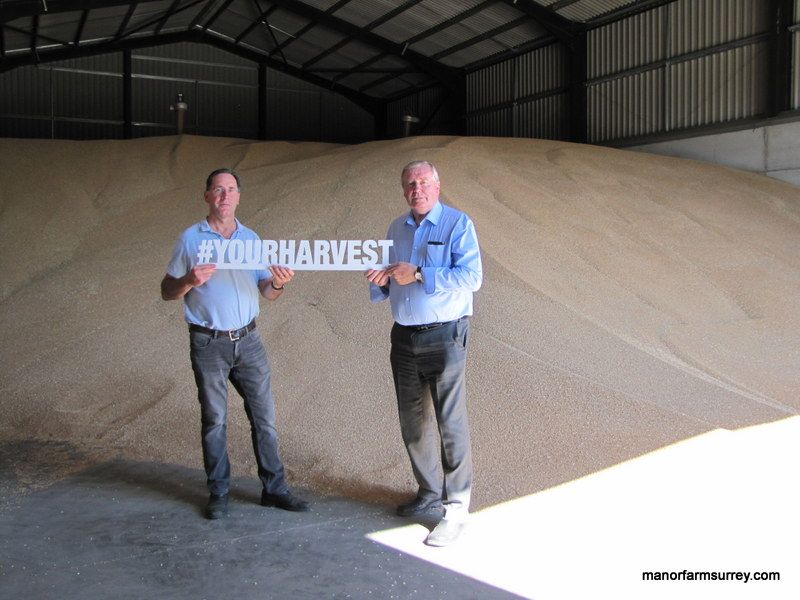 The campaign aims to raise the understanding of the arable sector and show how we grow the crops which form the bedrock of the UK's food and drink sector.
Every year the UK produces over 20 million tonnes of grain which is used as the raw material for products from pasta to breakfast cereal and 985 million pints of beer are produced every year from barley and malt ,with exports worth more than £500 m.
11 million loaves of bread are produced every year and 85% of the wheat used is British.
Another 11 million tonnes of British grain is used in animal feed which then gives the UK 25billion pints of milk, 10.5 billion eggs, 1 billion chickens and 10 million pigs.
The straw from #YourHarvest will be used as animal feed and bedding.
Whilst Surrey is a very wooded county, here in Mole Valley over 31,000 acres (34%) is farmland with 899 people directly employed in farming.
The gross value added of farming in Mole Valley alone, being £7.39 million.
96,591 people in Mole Valley will eat an estimated 2,813 tonnes of bread this year, 9,583,494 litres of milk and 10,598,952 eggs this year!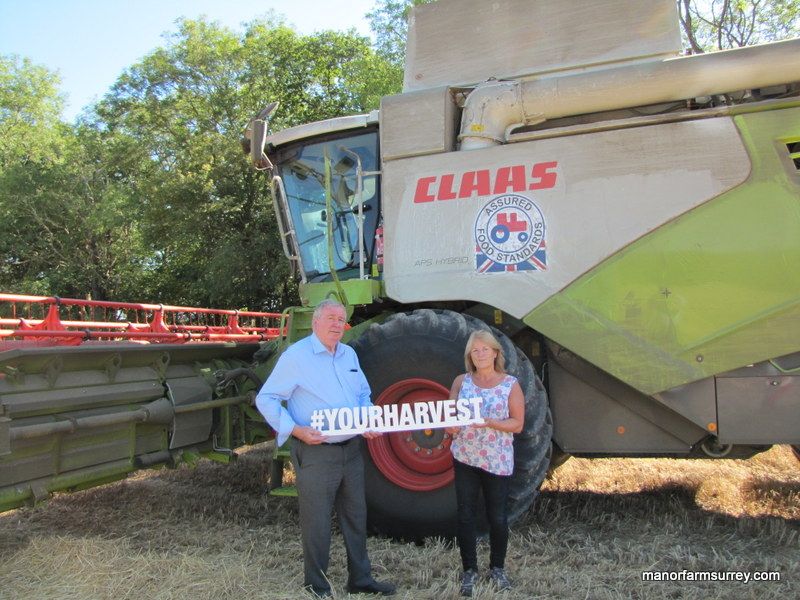 3rd August 2018
The combine harvester is a Claas Tocano which is smaller than the Lexion we used to have. We are growing less combinable crops at the moment and more forage crops, particularly on the lighter ground where the cereals don't always do so well.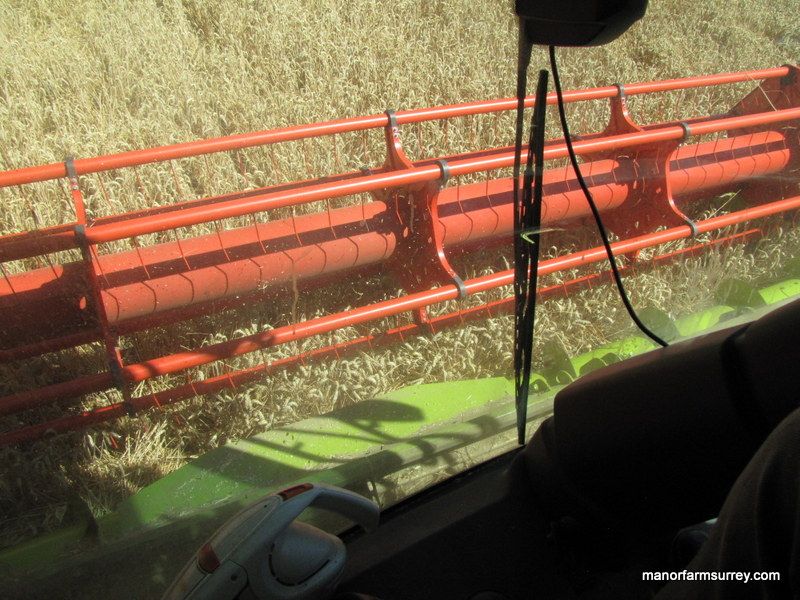 As harvest began earlier than expected, the Tocano arrived on farm with a a 9.3m header but the correct 7.7m header has now been delivered.
The header or cutter bar has knives to cut the crop and a reel (red in this photo) which feeds the crop onto an auger and into the combine harvester.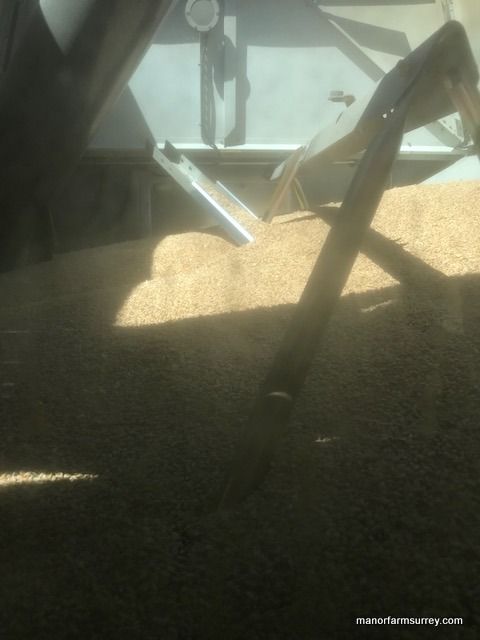 The combine harvester tank holds 11,000 litres of grain which is approximately 8 tonnes
depending on the density of the grain.
Two tanks- full would overfill one grain trailer.
Harvest has been progressing well and we've only had two days of rain to halt things, giving Laurence time to catch up on some of the stack of post and paperwork that accumulates during harvest time.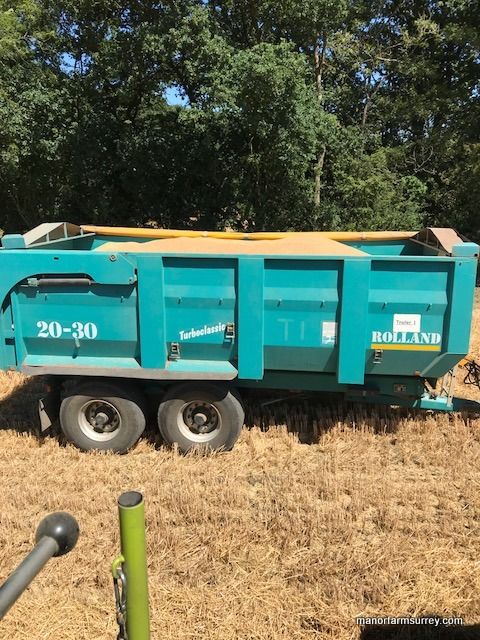 This grain trailer holds 15 tonnes
The oilseed rape is below average yield and the wheat that's been cut so far is just above average yield and the new variety, Zyatt is looking good so far.
All wheat this year will be sold to grain merchants for class 1 milling wheat.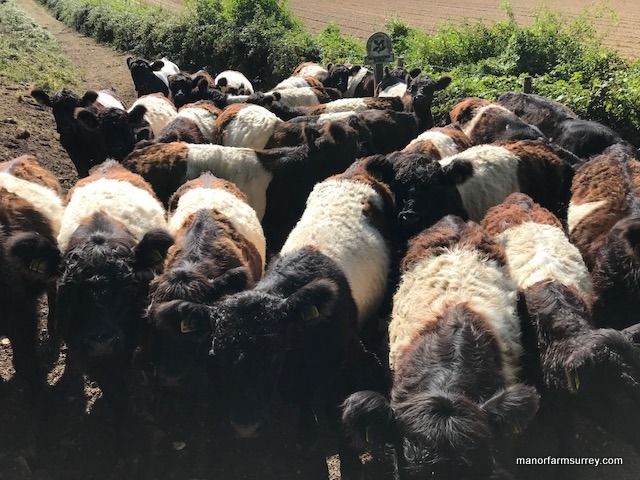 On Tuesday the 32 Beltie yearlings were walked off Blatchford Down, along the track to the barns at Hackhurst, from where we could load them into the livestock trailer. Two loads were transported up to Steers field and the Brow on Ranmore; from here they will have an amazing view across the Weald towards the South Downs!
For the past two years we had contractors harvesting for us, since our previous combine harvester caught fire whilst harvesting wheat.
So it's quite exciting that our new Tucano Claas combine harvester has travelled from Germany to Sussex (on a lorry) and after going through its pre-harvest checks it was driven to Dunsfold on Friday, where Laurence began harvesting oil seed rape (OSR).
The yield is below average and the seed is very dry in the first fields. The soil, if you can call it that, is very rutted clay and is now as hard as rock in this continuing dry weather.
The tiny black seeds from the OSR crop are at least 40% oil when crushed. The seed has been pre-sold and will go on to produce cooking oil.
We have 500 acres of OSR to cut before cleaning out the tank and then harvesting 15 acres of barley for our neighbour, a job that should be completed in three hours. Then it will be back home to start on 700 acres of wheat. This year we have grown Skyfall and Zyatt, both milling wheat varieties.
Just to catch up on Belted Galloway news. We moved all the calving to springtime a few years ago for practical reasons with workforce and so that the cows with young calves at foot could be turned out onto fresh grass.
However a few cows are out of synch due to last year 's Schmallenberg Virus causing them to abort, so they've added to the numbers grazing the chalk downland for Natural England and the National Trust this summer.
The majority of calves were born March-April except for the final two, called Nimbus and Wotton Nell who arrived on 16th May, I'm sure they waited for better weather! A total of 31 calves were born; 14 steers and 17 heifers.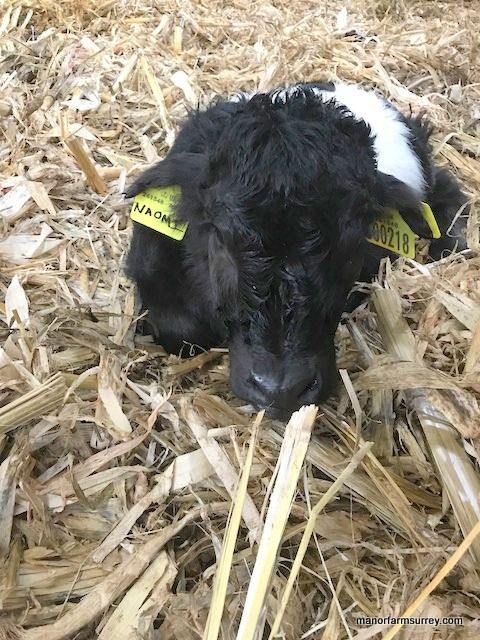 Wotton Naomi

The Belted Galloways underwent their 4 yearly TB testing; everything went well and in less time than anticipated which was a bonus.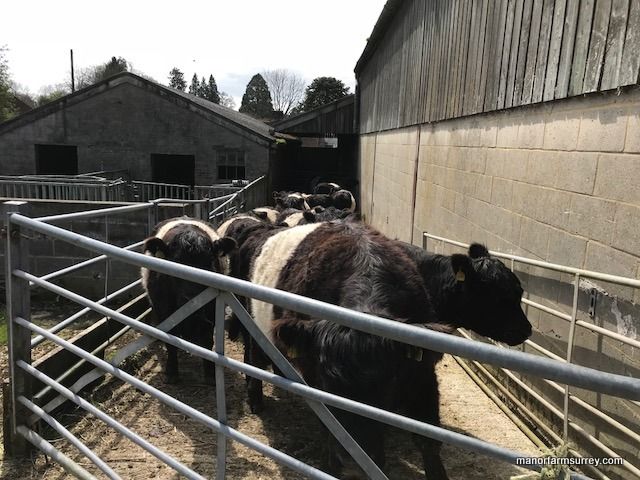 Once this task was complete we spent a few days sorting out the cattle and moving them to their summer fields.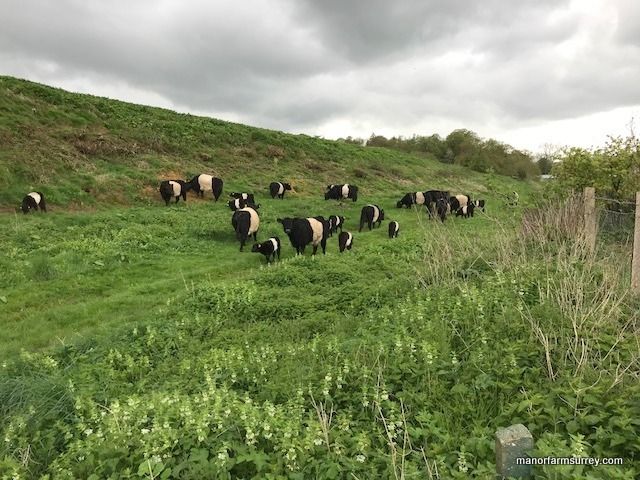 Carsluith Ethelred and Barwise Mister M joined their ladies for 8 weeks in fields without public rights of way, so they could enjoy their work without disturbance. They were removed from the fields on 4th July and we'll discover which of the cows is in calf on 20th August.
We hosted two contrasting visits recently but with a common theme; farming and education.
Eardley Primary School visited with children from Years 4-7. They were an inquisitive group with lots of questions for us about the various aspects of farming and food production we introduced them to; livestock, arable, machinery, food traceability, quality assurance and how mechanisation and science, such as the automatic milk machines improve farm efficiency but also importantly increase monitoring, health and welfare. The children had an enjoyable visit and seemed to take away a wealth of information which I hope will be just the start of their interest and knowledge about where their food comes from.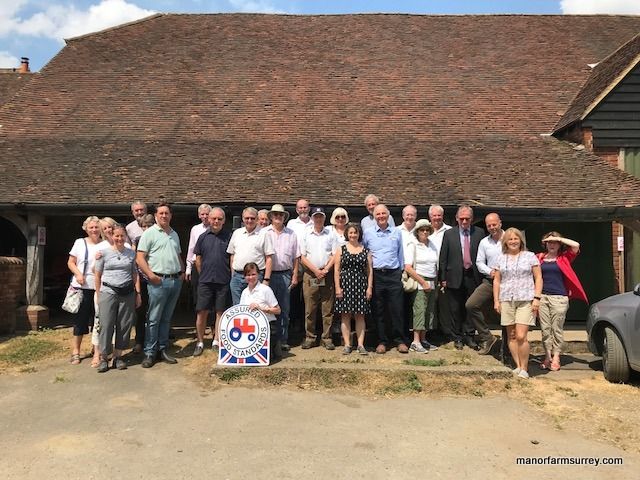 The following day the Surrey Hills Area of Outstanding Natural Beauty (AONB) held their annual tour which gave an opportunity for the AONB Partners to experience new areas and issues within the Surrey Hills AONB looking at policy and projects in relation to the future of food and farming; viticulture, rural enterprise; the arts, recreation, access and tourism.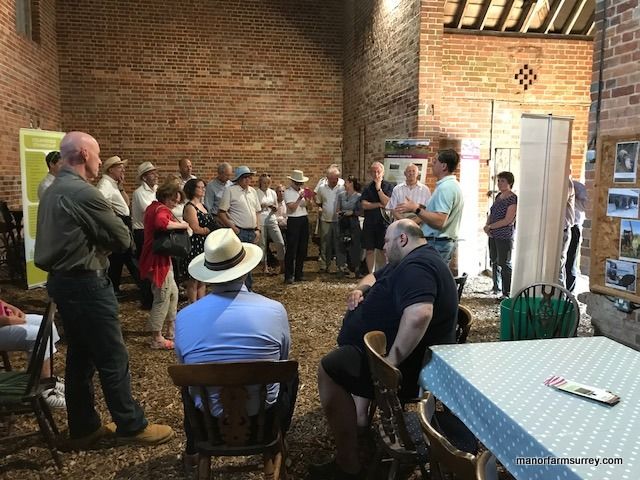 This included a visit to Manor Farm with an introduction by Laurence including a potted history of how his grandfather came to be farming in Surrey, his involvement in the war effort and how things have changed and evolved through his father's generation and to the current farm enterprise, environmental work and diversification.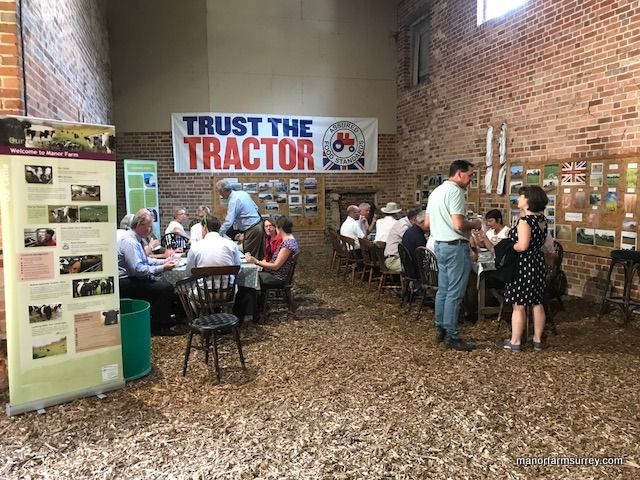 I was asked to outline our 'Countryside Classroom' and how we are connecting young people with the countryside and where food comes from; to explain what this entails on a practical level such as planning, H&S, costs, time and why do we do it!
We host visits because we want more people to know where their food comes from, for them to connect with the people growing food and for them to fill their senses and minds with memories and an understanding of how the food they eat is produced.
I explained that during the 'Year of Food and farming' in 2007 the then government wanted to get every school child out onto a real working farm. The government offered free transport and farmers like us went on a CEVAS training course. CEVAS stands for Countryside Educational Accreditation Scheme which is a nationally recognised accreditation. Further to our own training the farm was inspected and became fully accredited to host educational visits.
Unfortunately our own experience would lead me to say that the government's 2007 vision didn't reach its potential. For example I wrote to over 30 schools in Surrey offering free transport and free farm visits linked to the national curriculum but not one school at that time replied!
So instead we began to work with the Country Trust who would find inner city schools that did want to reconnect with farming and the countryside. The Country Trust continues to this day, matching city schools with Manor Farm and extending the connection between children, farmers and the food we all eat.
We used to host various local walks and talks before 2007, but since becoming CEVAS accredited we have provided not for profit educational visits to hundreds of children, young people and adults but of course it all takes time. We might question how much longer we can give up approximately 12 man hours for some of the visits, instead of farming and earning a living as things become more challenging due to BREXIT (but that's another whole topic of conversation!).
To round up our 'Countryside Classroom' with our Surrey Hills AONB visitors, Laurence gave a mini demonstration of how we learn about arable farming with a school group, including the crops we grow, what machinery and care of the soil and plants is required, thinking about the differences between the buckets of seeds and grains we pass around the group; letting the grains run through their fingers is a popular activity (hand washing after)and discovering the large variety of foods produced from the many crops grown here and across the UK and comparing with other parts of the world.
Here is a quote I have on my pin board and I think it could be a fitting answer to the question: Why visit a farm?
"What people don't understand, they won't value; what they don't value, they won't protect; and what they don't protect, they will lose." (Charles Jordan)
15th April 2018
This week, Edd will be fertilizing and cultivating once the ground dries up and Amanda will be feeding and bedding up those cattle inside, that are still waiting for the soil to warm up and the grass to grow.
On Tuesday and Friday we'll be TB testing around 90 Belted Galloway cattle in seven groups, at three locations. Both days will be challenging if only from a logistical point of view; three of the groups have calves at foot which makes handling them more tricky, added to which we only have two cattle crushes (handling system with 'race') so there'll be some juggling around of equipment to get it all in place and on time. If things go smoothly, hopefully with four of us and the vet, we estimate the job will take about 6-7 hours on each day.
A group of students from Farnborough Sixth Form College are visiting the farm tomorrow. The students are studying A Level Environmental Studies.
We'll be looking at the Belted Galloway suckler herd and the Friesian x cattle, discussing the differences between the breeds and methods of farming; countryside stewardship and conservation grazing; arable farming and diversification.
Conversation may also include food chains and traceability, trade organisations and the role of marketing and trade after leaving the EU.
On Thursday we will welcome Year 10 students from the Harris Academy, studying GCSE Food Preparation and Nutrition. Whilst using the same backdrop of our farm business we will be looking at the working farm to learn about livestock rearing from farm to fork, animal welfare and food provenance, food miles and the Red Tractor assurance scheme.
22nd March 2018
Orchid was the first of our Belted Galloway cows to calve this year with a heifer calf on March 1st, followed by a quiet few days.
It felt very much as though the cows were waiting for the weather to warm up and in fact when the temperature rose from minus 8 degrees to plus 8, there was an increase in calving!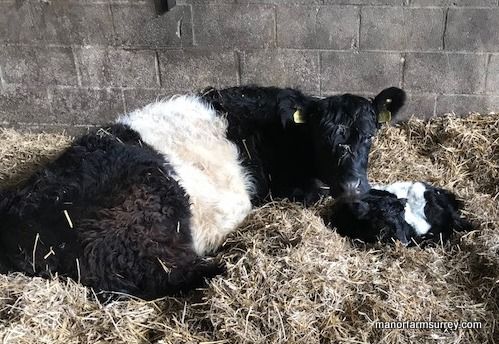 We have nineteen new calves so far, 10 of which are heifers and we're waiting patiently for another twelve cows to calve.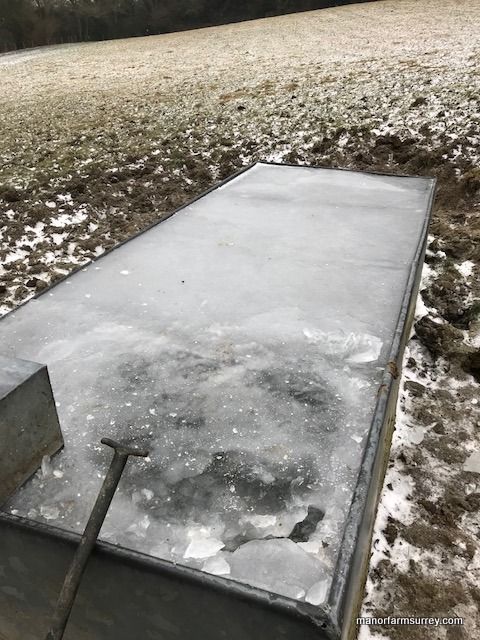 The cold weather has created more work, with water pipes to defrost and the ice on water troughs to be broken each day.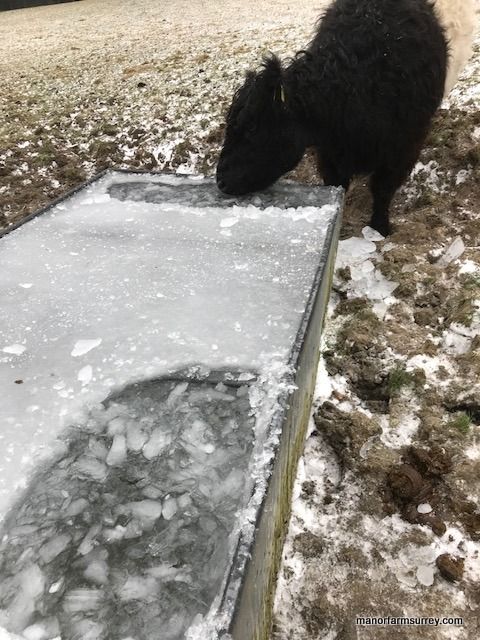 With snow covered ground and no grass available, we provide home grown haylage to the Belties which are outside. I'm sure the cattle will be as pleased as me when spring arrives.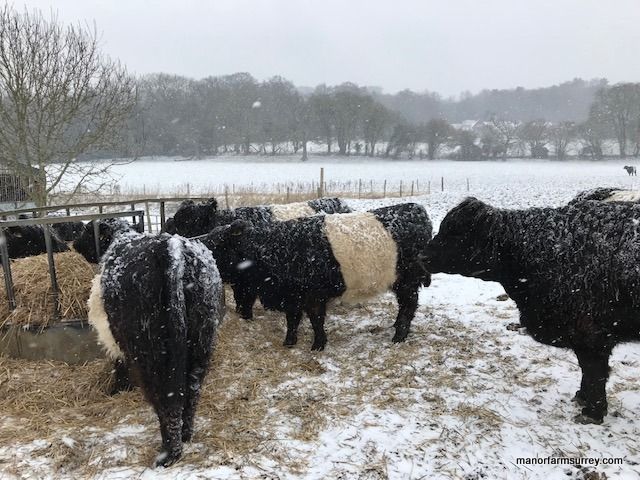 With warmer days, the soil will warm up and fresh grass will begin to grow as well as the multitude of native plants and herbs growing on the North Downs where the Belties will return to graze from the end of April.
Approaching us in April is a routine, 4 yearly TB testing of all our breeding females. This will take place on two days, 72 hours apart and needs to be well organised because the cattle are situated in three locations and everything must be tested within a certain window of time.
The two bulls, Ethelred and Mister M will have their annual fertility test next month and providing that everything is still in good working order, the bulls will go back out with their cows in mid May.
The barns which house the Friesian x cattle during the winter are mucked out on a regular basis and the farm yard manure is stacked in heaps in the fields until it's required for fertilising the soil prior to the next crop being sown.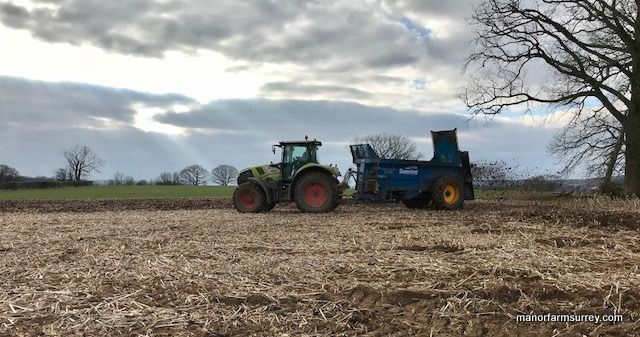 We hire in the muck-spreaders for two of our staff to use as well as contracting a neighbour with his own muck spreader.
18th February 2018
As the grain harvest came to a close in August, we began to harvest fodder beet in September.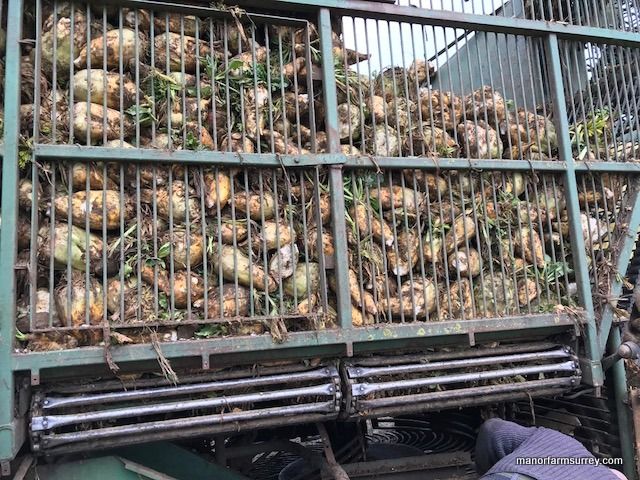 We only lift the fodder beet from the soil as and when it is required, thus maintaining its freshness during autumn, winter and spring.
There's been a more continuous harvest of the crop since November with 120 acres lifted so far and another 100 acres to complete in-between other routine winter work, such as the regular feeding and bedding up of cattle and loading of grain lorries.
The Friesians are over-wintered in barns and fed on the beet and maize silage which was harvested and clamped in the autumn. Both these crops are also sold off farm to other farmers and the fodder beet is particularly popular for owners of cattle, pigs, sheep and horses.
A neighbour is currently harvesting 60 acres of grain maize for us.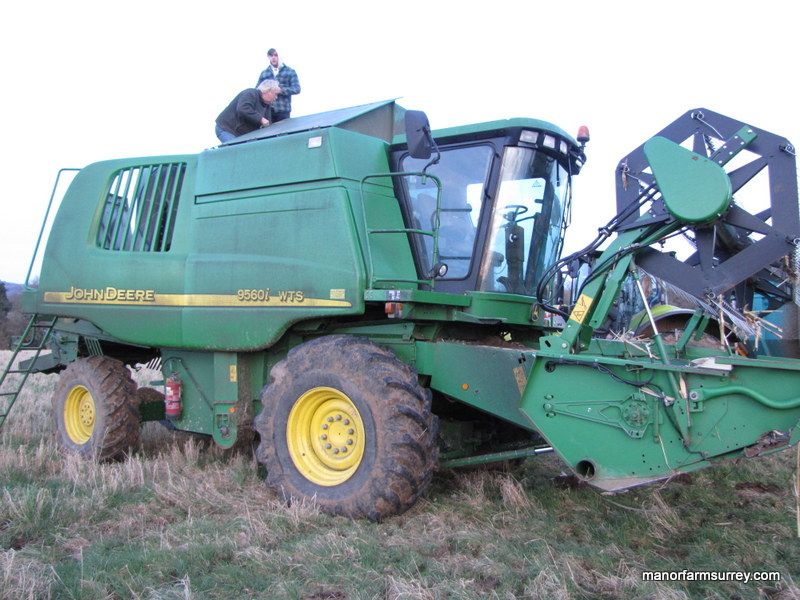 Everything was going well until Friday afternoon when a huge rock was taken into the header, damaging the auger and drive chain; replacement parts and an engineer should arrive on Tuesday.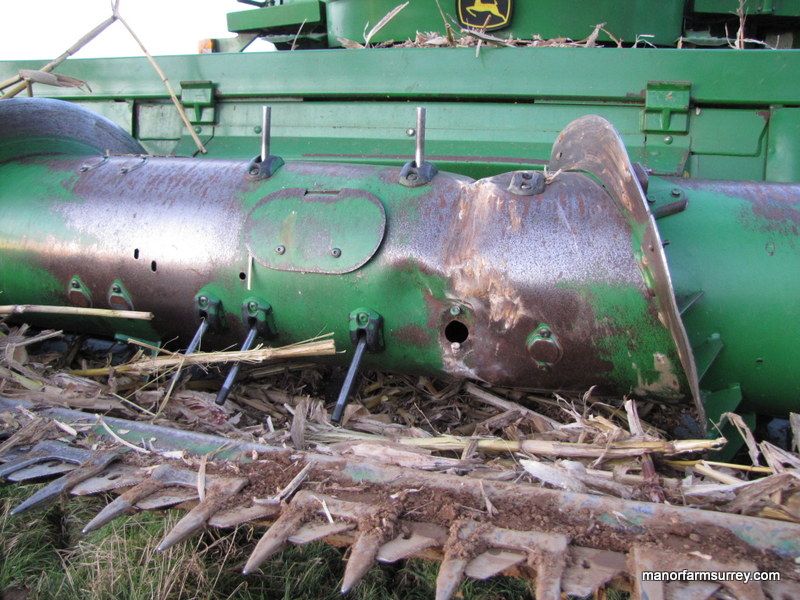 The damaged header

Last autumn we drilled about 350 acres of oil seed rape and 650 acres of wheat and I'm sure the crops will appreciate the warmer soil as we head into spring.
We have mixed soil types from sandy, through to clay and chalk.

One 20 acre field has been wet for quite a few years so Laurence and David replaced a number of main drains which were blocked and then connected the existing herringbone drains from across the field into the new pipes.

Some of the 'soil' removed to lay the drainage pipe; the replacement drainage will improve crop growth in this type of dirt.

The new sections of pipe are back filled with shingle and the field ditch was cleaned out to ensure water flow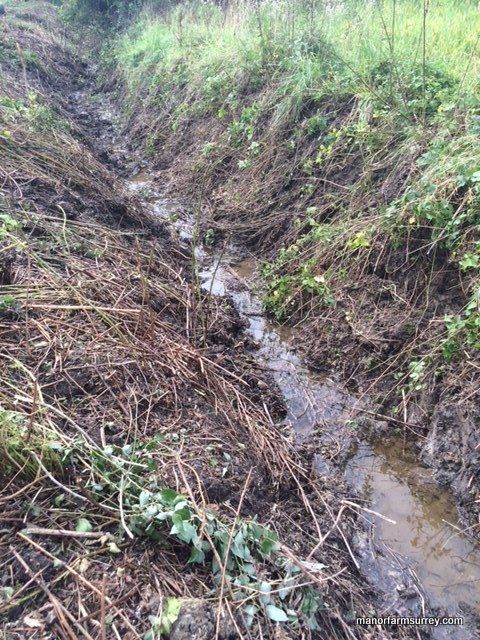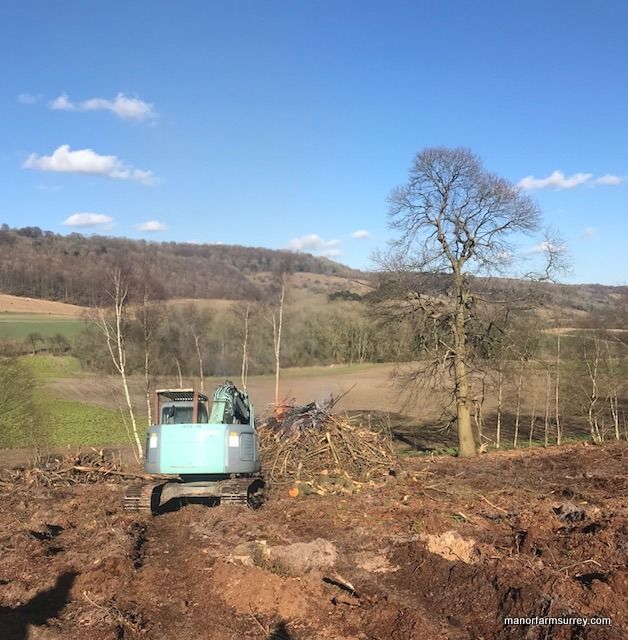 During the winter a crop of timber was harvested from a neighbour's land and we are now clearing and burning the brash wood in preparation for them to re-plant the area with the next crop of trees.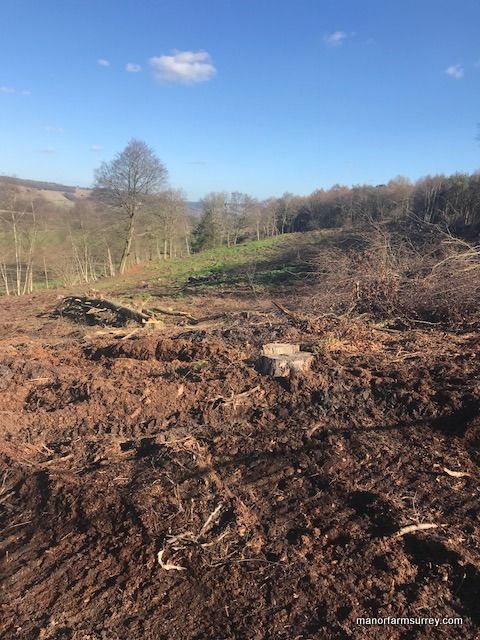 The area to be re-planted
The Belties had their feet checked and trimmed as necessary to keep them in good condition over the coming year. The work is undertaken by a professional foot trimmer who brings a purpose built handling system.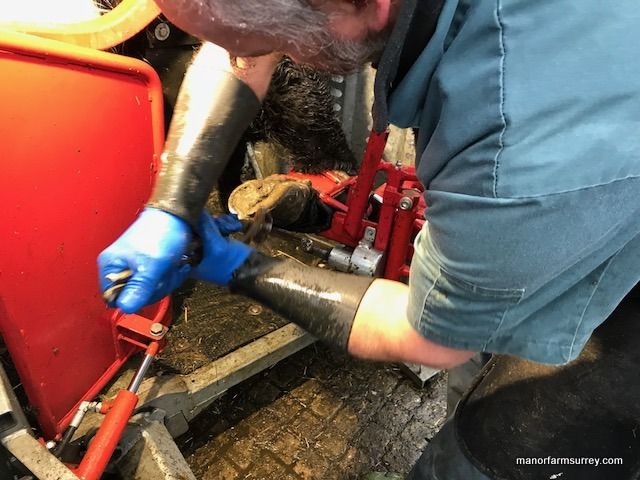 Hooves are returned to their correct shape to best support the weight of the cow and prevent lameness.
Back in September the Beltie cows were pregnancy diagnosed (PD) with 32 found to be in calf and one unknown, as 'Babs' decided to jump over the gates instead of being PD!
The in-calf cows have remained in their bulling groups and have now been moved into two barns ready for calving from about the third week of February. After calving the Belties will be turned out to grass once again.
24th August 2017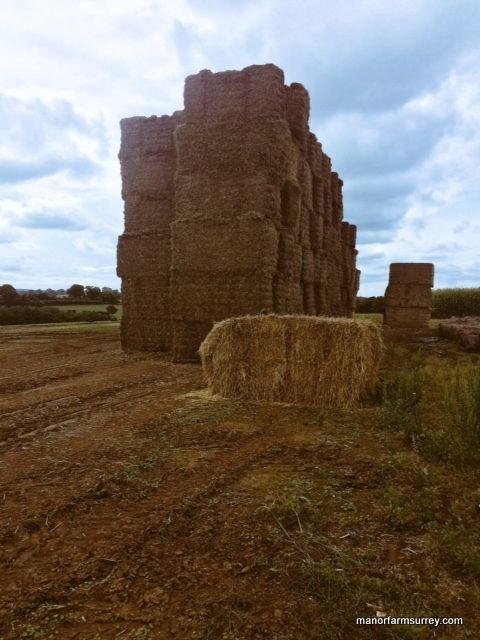 Stack of oil seed rape straw (not the single bale)
Harvest was completed a few days ago, with straw bales loaded onto trailers and sold direct off the field or moved back to be stored in barns for winter cattle bedding.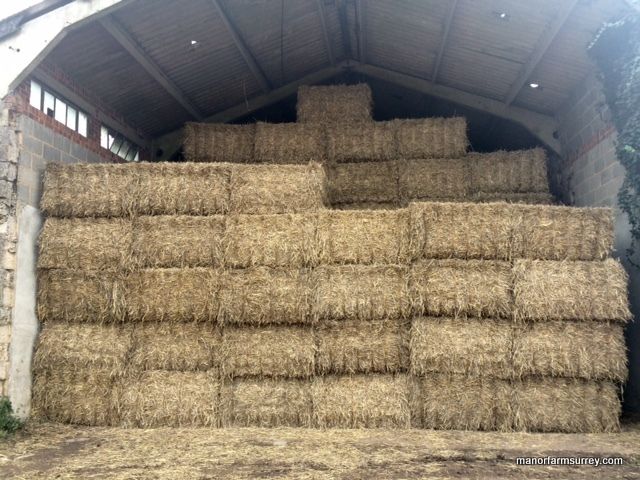 Wheat straw for winter bedding
We had fantastic weather in June and the wheat was looking very good as it ripened, but as harvest began the wet weather also arrived giving us above average rainfall in July and August!
This resulted in three quarters of the harvested wheat grain having to be put through the dryer to reduce the moisture content to below 15% before that could be stored. We still have 500 tonnes of grain to dry.
Moisture meter, probe, grain samples bagged & ready to send to grain merchants

The yields and kilo-weight were above average for the wheat and protein levels were good, but the Hagberg Falling Number (HFN) was below 240 which is the level required for bread making.
To measure the kilo-weight, a 100 litre container is filled with grain and weighed. The weight of the filled container must be 72kg for feed wheat (used in cattle, horse, chicken food etc) and 76Kg for milling wheat. Our wheat has been 78-79 kilo weight.
Wet weather causes chitting or sprouting in the wheat before it can be harvested, this causes rapid production of the enzyme alpha-amylase which degrades the starch in the grain.
Samples of our grain are sent to the grain merchants and they undertake the HFN test which measures the enzyme activity in each sample. The test which was developed in the 1950's was first done by hand but is now a quick mechanised test.
Although we grew a milling wheat variety, it can now only be sold as feed wheat due to the HFN being below 240. This is the same situation for most farms across the south resulting in an increase of feed wheat on the market, reducing the price paid to farmers.
On a better note the oil seed rape (OSR) was above average yield for our soils and the quality is good with above 40% oil levels.
As we rotate our crops and fallow land, our view of the landscape changes most years.
At the moment 320 acres, out of 800 acres that was wheat last year is being drilled with OSR and the remainder will be sown with maize, fodder beet and 2nd wheat.
Another 300 acres will be sown with wheat where there was OSR, and some of last year's fallow will grow wheat, whilst the land at Normandy will be left fallow after the wheat just harvested!

Ladies in Beef was established to tell the story of British Red Tractor beef.
The group was formed to help promote and drive awareness of the quality and versatility of British beef to consumers using a country-wide network of dynamic lady beef 'champions'. They organise Great British Beef Week in April and attend various events across the country.
When I received an email from LIB looking for members to take part in Adam's Farm at BBC Countryfile Live I thought it could be a great way to support Ladies in Beef, of which Adam Henson is patron and to share our passion for British farming and Red Tractor Beef with a large number of visitors to the event and wider still, through coverage on BBC Countryfile .
I was at Blenheim Palace on the third day of the event and being a Saturday it was incredibly busy. There were five of us Ladies plus three Gents in 'Team Beef' that day and we had a constant flow of visitors coming to talk with us and asking a varied questions. The Red Tractor key rings/supermarket trolley coins (new shape £, so very popular!), pens, stickers and beef recipe cards were all very popular and a good conversation starter.
I took a cattle passport with me and various large photographs from Manor Farm of our cattle to provide visual links between the farm and the cattle that were at Countryfile Live.
We talked about the various foods that visitors had seen with the Red Tractor logo and about the high standards required for Red Tractor Farm Assurance and discussed everything from passports and ear tags, unique ID numbers, high welfare, traceabilty of cattle and beef, differences between beef farming methods, suckler herds, beef raised from dairy calves, to Higher Level Stewardship and grazing management of Sites of Special Scientific Interests.
Dozens of sheep, pig, dairy and beef farmers could easily be spotted in their colourful 'ask a farmer' T shirts. Here is 'Team Beef' in orange!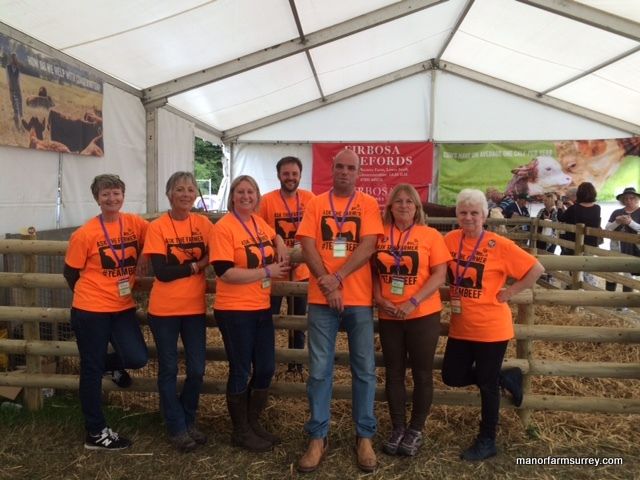 Whilst getting involved at Countryfile Live undoubtedly spread the word about British farming to a large number of visitors at the event itself, I would have hoped and expected that the visitor engagement, given their serious interest and thoughtful debate about British farming, should have been a fantastic opportunity for the BBC to share with all the viewers of Countryfile on 20th August, a large number of whom wouldn't have attended Countryfile Live in person and I'm sure would have found these conversations fascinating.
Sadly all the effort and passion for British farming that shone out from dozens of farmers during the event wasn't shown on TV.
I hasten to add that I'd hate to be shown on TV - leave that to others!
24th July 2017

We've had a long spell of dry weather causing a lack of grass on the lower fields, but typically the rain arrived the day after harvesting began.

The contractors arrived with two combine harvesters, a Class and a New Holland and they managed to complete 150 acres before further rain brought them to a halt.

The oilseed is gradually fed out of the trailer and an auger feeds the seed into the drier.
The oilseed rape has been coming off the fields at 6-10% moisture content and it needs to be below 9% moisture content before it can be stored or sold off farm, therefore the oil seeds are being dried in the Mecmar drier before being augered into the grainstore.

Unfortunately it was still drizzling on and off as we welcomed a group visiting the farm from County Care.
The group were able to see the cultivator in action and oilseed rape being put through the drier as well as meeting some Friesian calves and Belted Galloway cows with calves at foot.
I've been Ragwort pulling in a few fields in advance of the grass being cut and baled for haylage.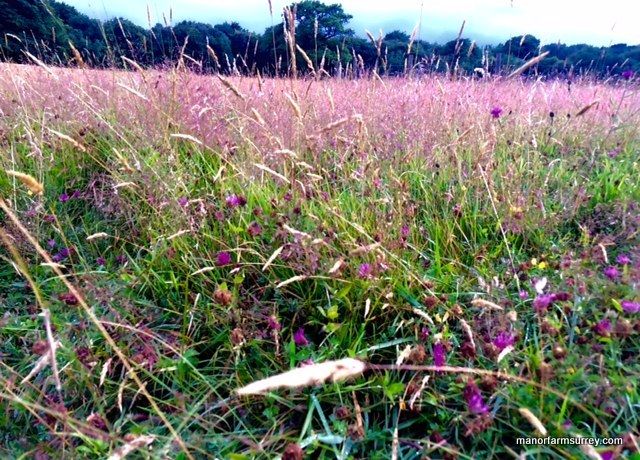 Although it's time consuming , it can be a rewarding job working in a meadow full of butterflies and bees and with swallows swooping overhead.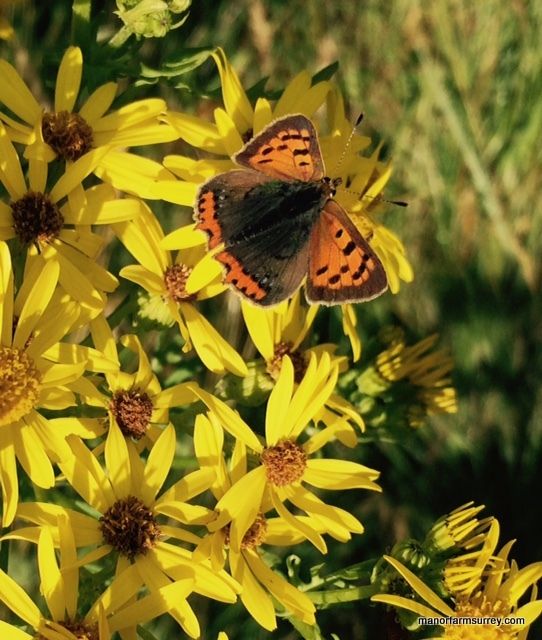 Ragwort with a Small Copper butterfly
11th July 2017
Back in May the vet came out to check five Belted Galloway cows which hadn't yet calved. They were diagnosed as pregnant but must have lost the calves that had been due in February/March, got back in calf and are now due between August and November!
Blood samples were taken from three of the cows that had been due early in the spring and they have all been confirmed as having antibodies to Schmallenberg Virus (SBV) and Neospora Caninum, both of which can cause abortion.
As mentioned last time SBV is transmitted by midges, whilst Neospora caninum is a parasite whose definitive host is a dog. The parasite's reproduction occurs in the intestine of the dog and it sheds oocysts in the dog faeces. These spores can be ingested by grazing cattle (known then as an intermediate host) which if pregnant can cause abortion or a stillborn calf.
We won't breed from cows confirmed with Neospora caninum as this can be transmitted from the cow to an unborn calf and there is a risk that the canine host will ingest the afterbirth of an infected cow or tissue from an aborted calf out in the field, which then completes the lifecycle of the parasite.
It's hoped that with SBV antibodies these cows should now be protected from that virus. The final two cows in this group of late calvers will also have the blood tests next time we bring them into the yard.
Preparation for harvest is ongoing with trailers being serviced and the grain stores being dusted (yes I did say dusted!) and vaccumed.
The last of the peas, about 2-3 loads should be collected by Gleadell today which will free up storage for this year's crops.
Maize silage is being sold as a cash crop to amongst others, a Hampshire dairy farm where it's being fed to supplement the grazing and support the milk yield and to an AD system in East Anglia.

Fodder Beet For Sale We are growing 250 acres of fodder beet this year, with lifting between about October and March and are taking orders now in readiness for the autumn, inquiries can be made via the contact tab above or telephone: 07774275930

The 12 year old Mecmar grain dryer has a few worn parts through general wear and tear, so replacement bearings and a central auger have been ordered from Italy.
The central auger circulates the grain in an upward direction within an inner chamber and when the grain reaches the top it falls into an outer chamber. Hot air is then blown sideways through the grain to dry it. The tube in which the auger sits has also become worn in places causing some of the grain to leak out into the wrong chamber rather than being transported upward. That tube will also be renewed.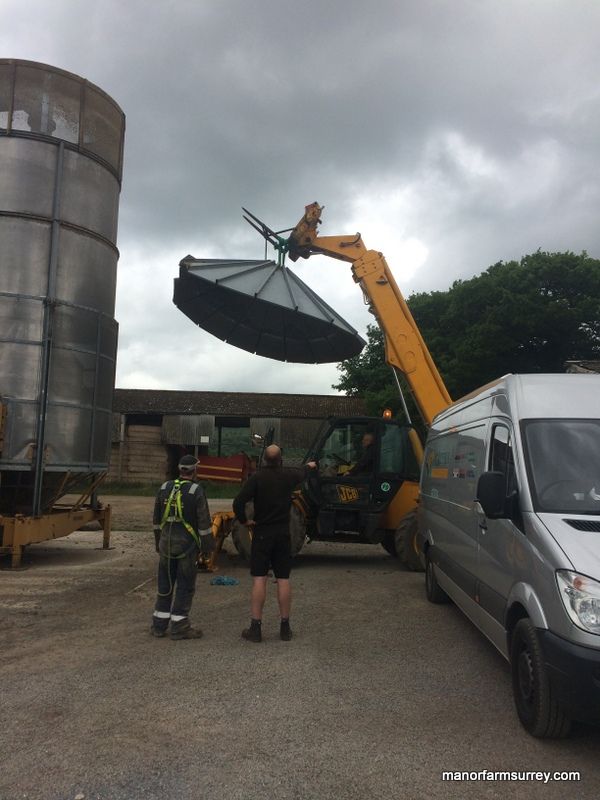 The grain dryer is an essential piece of equipment for a wet summer but there are also occasions in relatively dry harvests when grain needs to have the moisture content reduced a little before storage.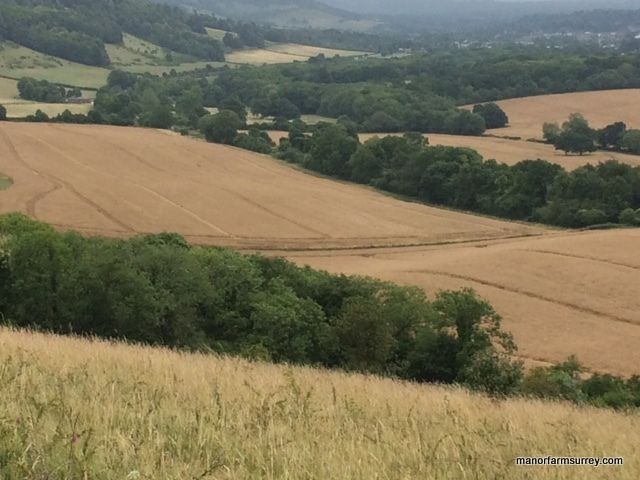 The oilseed rape (OSR)harvest will begin in about a week and if it comes off well, the 300 acres should be harvested in five days with about 50-60 acres per day if the weather remains dry.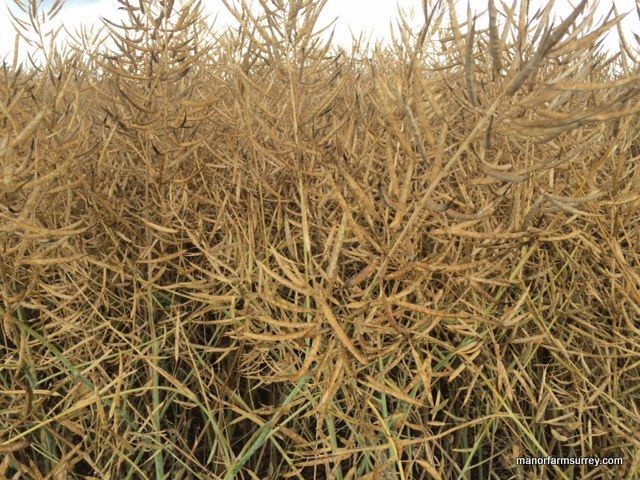 Contractors will be harvesting for us again this year since our combine harvester was burnt to a cinder during harvest 2015. We still haven't got round to buying a replacement.
Following on from the OSR we'll have 900 acres of wheat to harvest and are just talking about how we might be able to continue to harvest during the 2017 Prudential cycle race when 25,000 amateur cyclists take over the roads. After a year of farming and working towards harvest we can do without any delays once the crops are ready and the weather is fine.
The day of the cycle race falls during the wheat harvest and last year it prevented us from working because the roads were closed and we had no access to the fields of wheat nor a road to transport the grain back to the farm.
As crops are grown in rotation, those that were wheat fields last year may be fodder beet, maize, OSR or fallow this year . So we are hoping that the fields of wheat which are growing along Raikes Lane will be fit to harvest during the race on 30th July as that should enable the harvest to continue, with corn carting directly from the fields to the grain store at Raikes Farm.
Last week we moved the Belted Galloways from the Cressbeds, the short distance via Paddington Mill to the fields at Abinger Hall.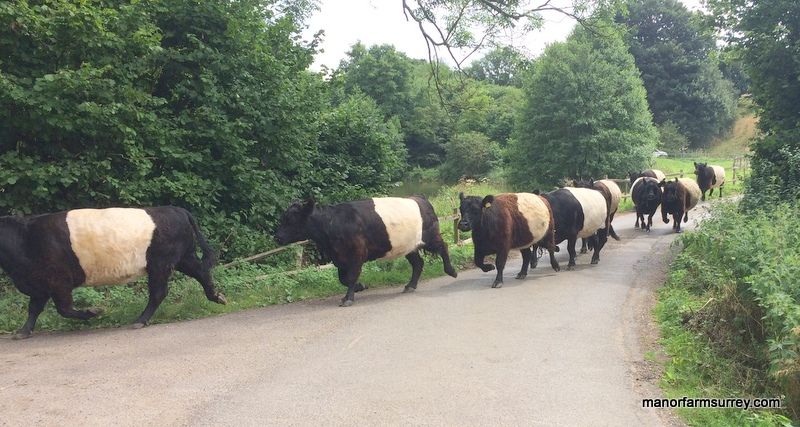 The cows know the route well as does Ethelred the bull, who will obligingly follow his girls. It was the first time the calves had changed field on foot and they were happy to saunter along behind. There should be enough grass in the new field for quite a few weeks.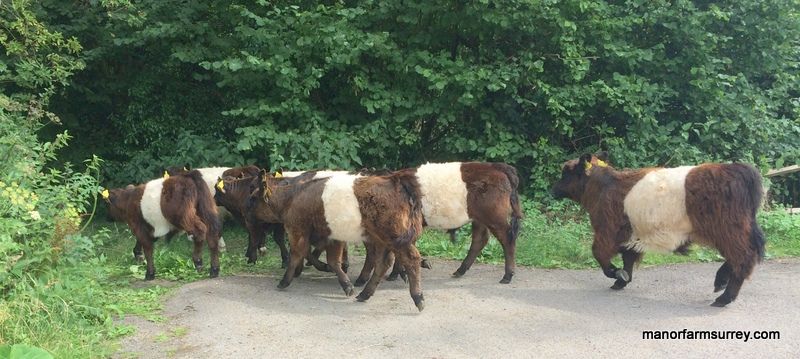 We've received a Tuberculosis Tracing Test Notice from the Animal Health and Plant Agency. The notice informs us that following a recent disclosure of a TB incident on a farm from which we bought Friesian calves eleven months ago, we must now have six calves tested for TB. This will apply to each and every calf that was sold off that farm and potentially to a number of different farmers each of whom will arrange for their vet to carry out the TB tracing tests by a set date.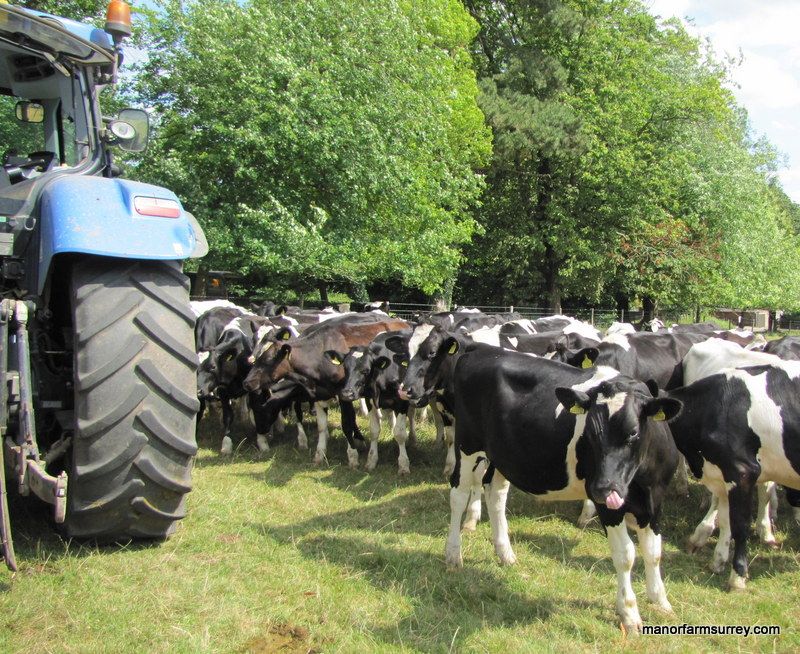 The rest of the Friesians looking on!

The six Friesians to be tested here, were in four locations so Reece drove the cattle crush to each site and Ben Brearley from the Livestock Partnership carried out the first part of the TB test today (day 1) and he will return on Thursday (day 4) for the results.

Ben trimmed the neck in two places on the neck of the animal and measured and recorded the thickness at both sites. The two sites are then injected under the skin, one with tuberculin bovis and the other with tuberculin avium.
On Thursday the skin reactions will be measured and compared to provide a result.